Domestic Partners Attorney in Lawrenceville, Georgia
Metro Atlanta Domestic Partnership Lawyer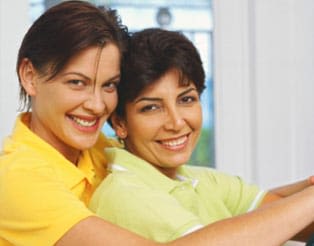 Laws pertaining to families are based on legal precedents of many centuries past during which marriage or adoption were the only legal mechanisms by which to form new family relationships. In today's society, the reality is that many heterosexual and homosexual couples live together and raise children without formalizing a marital bond. Individuals and couples in domestic partnerships often need legal advice regarding property, children, and other matters that have traditionally been dealt with within the confines of marriage.
To schedule a consultation with an experienced Atlanta domestic partnership attorney, contact Anthony M. Zezima. Mr. Zezima has represented clients in matters including same-sex partner adoptions, custody disputes between divorced parties when one has entered into a same-sex partnership, and other complex family law matters. Mr. Zezima represents individuals, regardless of affiliation.
Legal Considerations of Same-Sex Marriages
Following the U.S. Supreme Court decision that determined that it was unconstitutional to deny same-sex marriages, the State of Georgia now recognizes and sanctions marriage between partners of the same sex. Georgia also recognizes marriages between persons of the same sex when they may have been legally married in another state or country. This means that divorces can now be filed to dissolve these relationships. Of course, the parties will still have to meet the residency requirements before filing. One of the parties must have resided in the State of Georgia for at least 6 months immediately preceding the filing of the divorce.
Legal Opportunities of Domestic Partners Who Choose Not to Marry
Some issues related to domestic partners, and also single members of the gay and lesbian community, are reciprocal wills, custody and visitation of children, separation of assets, living wills, general power of attorney, and powers of attorney for health care. Partners may also enter into a Domestic Partnership Agreement, similar to a premarital agreement. These can be helpful if the parties, whether heterosexual or homosexual, choose not to marry.
Child Custody Matters in Same-Sex Marriages, and Domestic Partnerships, Gay or Straight
Georgia cases have also recognized the rights of gay and lesbian parents in child custody actions where the major contested issue is the sexual preference and lifestyle of the existing custodial parent, or the proposed custodial parent. Of course, if the parties are married, the divorce laws will govern these issue.
Georgia Constitution Forbids Same-Sex Marriage, and Any Other Benefits of Marriage, or Benefit Based upon Relationship Similar to Marriage
Constitution of the State of Georgia, Article I, Section IV provides as follows:
Paragraph I. Recognition of marriage
(a) This state shall recognize as marriage only the union of man and woman. Marriages between persons of the same sex are prohibited in this state. (b) No union between persons of the same sex shall be recognized by this state as entitled to the benefits of marriage. This state shall not give effect to any public act, record, or judicial proceeding of any other state or jurisdiction respecting a relationship between persons of the same sex that is treated as a marriage under the laws of such other state or jurisdiction. The courts of this state shall have no jurisdiction to grant a divorce or separate maintenance with respect to any such relationship or otherwise to consider or rule on any of the parties' respective rights arising as a result of or in connection with such relationship.
GA CONST Art. 1, § 4, ¶ I
While the above provision is still part of the Georgia Constitution, the ruling by the U.S. Supreme Court effectively prevents Georgia courts from enforcing this provision. It will most likely be stricken from the law at the next opportunity of our state legislature, which meets only 40 business days each year. They will not be in session again until January 2016.
Contact Fulton County domestic partnership attorney Anthony M. Zezima, P.C. to schedule an initial consultation.